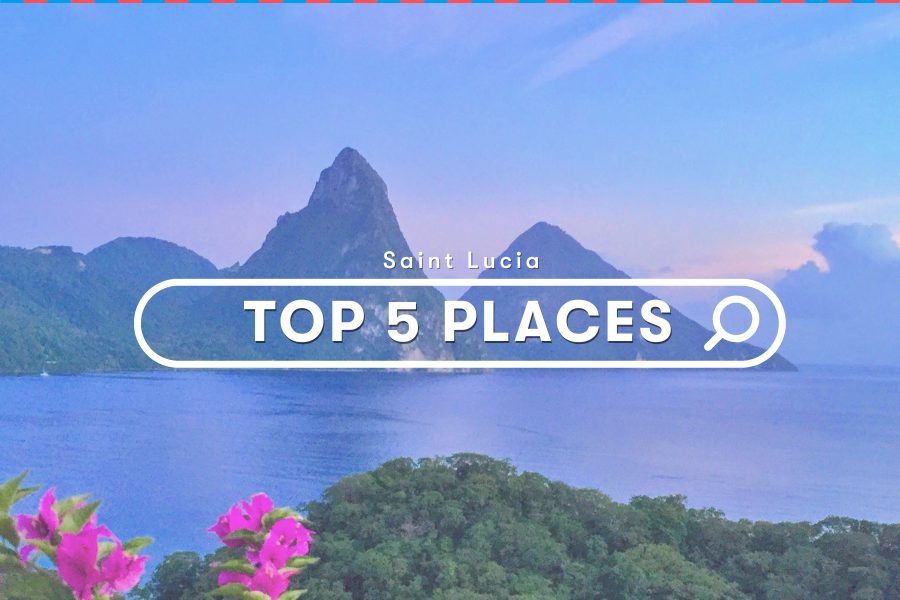 Introduction
St. Lucia, often known as Saint Lucia, is a Caribbean Island in the Windward Islands group. St. Lucia is one of the larger and most populated islands in the group.
Thebest aspect of the island is that English is the official language, and practically everyone knows it, so you can easily chat with anybody. Also, the island's French background blends perfectly with its British heritage, creating a one-of-a-kind vacation experience.
The gorgeous island,St. Lucia is located in the Eastern Caribbean and already has plenty of things to offer any tourist. Also, with the city of Castries being a famous tourist destination, we've compiled a list of the top five attractions on this incredible island.
Top 5 places to visit in Saint Lucia
Now that you've seen a bit of what St. Lucia has to offer, here are some of the spots you should absolutely see.
1.
Castries
Castries, the island's capital city, is the first spot you should see, even if just for a short while. And it is the best city for shopping. You should go to the vibrant Castries market, where you can find everything from fresh veggies to local handicrafts for souvenirs. If you're interested, you can also get a taste of the local culture at the market.
You can also visit Rainforest Adventures at the St. Lucia Park, which combines nature and entertainment in eco-friendly adventures ranging from zip lines to aerial trams and nature walks to bird viewing places.
2.
Rodney Bay
Rodney Bay is considered the island's entertainment and tourist center, is about a 20-minute drive north of Castries. The bustling and vibrant commercial center offers a variety of activities for all tourists. The area also has a number of stylish restaurants and pubs that come alive at night. Rodney Bay, while remaining one of the most popular attractions on the island, provides travelers with duty-free shopping and items at moderate costs. If you prefer sunbathing, the relatively modest metropolitan-like region boasts beaches with blue glittering waves and smooth sand for anyone to enjoy.
3.
The Pitons
The Piton Mitan Ridge connects two volcanic plugs that make up this historic landmark. It attracts a large number of people on a daily basis, providing them the opportunity to witness this incredible monument in person. It is located near the villages of Soufriere and Choiseul on St. Lucia's Southwestern coast. It provides a beautiful environment for everyone to enjoy, and it is also known for beautiful but thrilling hiking and snorkeling excursions.
4.
Anse Chastanet Marine National Park
The coral reef at Anse Chastanet is home to a variety of sea life. Divers can view colorful sponges, soft corals, boulder corals, and brain corals on a two to eight-meter plateau. Tourists could see frogfish in a nearby cavern, and many other types of fish, including parrotfish, goatfish, wrasse, Chromis, and barracudas, in the coral gardens.
The plateau's edge is a cliff that drops 46 meters to a lace coral habitat teeming with lobsters, crabs, and eels. Plate coral begins at depths of less than 30 meters.
Anse Chastanet is a protected beach with stunning views of the Pitons above the water. Anse Mamin, about a 10-minute walk away, is less busy, with a nice isolated vibe and excellent snorkeling.
5.
The Vigie Beach
Vigie Beach is two kilometers north of Castries, located adjacent to and directly close to George F.L. Charles Airport. The beach is well-known for its breathtaking surroundings. The beach has a tree canopy to provide protection from the heat as you enjoy the wind from across the ocean's waves. You can take a long, peaceful walk on the gorgeous white beach, watching the birds and the beautiful plants.
Final Words
On St. Lucia, adventurers will come across a number of activities. Popular island activities include ziplining, climbing the Pitons, hiking the many marked nature trails, horseback riding, sightseeing cruises, and exploring the island's active volcano. Diving is a great experienceon St. Lucia's west coast, with a wide variety of corals, sponges, and reef fish.