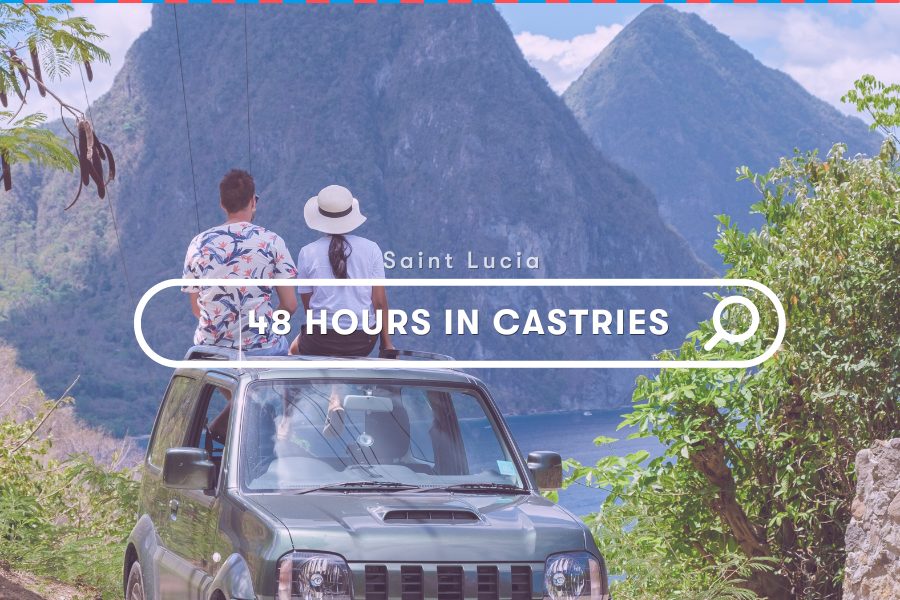 Your Perfect 48 Hours in Castries
Discover the ideal two-day plan for romantic activities in Castries with your significant other.
Castries, the capital city, is a lovely historical section of St Lucia. It has a thriving seaport, incredible architecture, and vibrant marketplaces.
Couples visiting the city can enjoy superb meals, incredible experiences, and breathtaking landscapes.
This two-day trip is ideal for couples looking to experience a new location with their companion.
Day 1
Day 1 Morning: The Central Markets are one of the most popular things to do in Castries. This massive open-air market was erected in 1891 and is a popular destination for locals and tourists today. It is located in the middle of the capital and is relatively easy to find. It also helps that it's under a bright orange roofed building!
Fresh fruits, veggies, arts and crafts, and even apparel are available. It is open from 7 a.m. to 1 p.m., Monday through Saturday. It's the ideal way to start the day, taking in all the sights, sounds, and fragrances. Of course, the tastes must be noticed.
You and your lover can go shopping before having wonderful breakfast delicacies. Try traditional breakfast teas like local cocoa and baked goods.
After you've had your fill of breakfast foods, you could do some souvenir buying. Stroll among the weaved baskets, souvenirs, and homemade products. If you purchase something from this market, your family will undoubtedly receive a one-of-a-kind gift.
Day 1 Afternoon: How about a peaceful afternoon on the beach after you've filled your stomach and perused the colourful stalls? The beaches of St Lucia are so beautiful that they all seem like postcards.
Vigie Beach in Castries is a white-sand beach with calm waters. Grab a towel and prepare to enjoy the sun with your loved one in an amazingly peaceful setting.
There are various local pubs and restaurants along the shore, so if you become hungry again, you won't go hungry. The beach is rarely crowded, and most visitors seek a relaxing afternoon under the sun.
On the other side, you're looking for some afternoon fun. Rainforest Adventures is within 20 minutes from Castries' main metropolis. Hidden among the trees, ziplines allow you to glide, soar, and navigate the rainforest like Tarzan.
Alternatively, ride the Aerial Tram, which will take you to the sky with a view of the greenery below. Take in the breathtaking scenery and keep an eye out for the various fauna that inhabits the rainforest.
Day 1 Evening: It's time to eat after building up an appetite, relaxing at the beach or soaring through the treetops. The Coal Pot Restaurant serves supper with a view. It's a local staple with delicious seafood meals.
Its name was inspired by the coal burners used for cooking for millennia in the Caribbean. It is also well-known for preparing fish in several ways.
Sit down with your spouse and enjoy the restaurant's specialities while gazing over the Vigie Marina. Begin with callaloo soup or fish chowder. Then try some native fish, such as snappers or St Lucian crab. The excellent taste of each dish will overwhelm your taste buds.
Day 2
Day 2 Morning: Prepare for another morning of delectable dishes from the Pink Plantation House. Without even eating, visiting this former colonial estate is an adventure in and of itself, from the pink exterior to the lush tropical gardens. It's the ideal method to fuel your exploration of the capital.
From fresh fruit like mangos, watermelon, and passion fruit to a classic St Lucian breakfast, your stomach will be overjoyed.
You can eat breakfast on the veranda while watching the sunrise, ready for another day of viewing incredible sights and enjoying St Lucia's splendour.
Day 2 Afternoon: Before departing Castries, visit the capital to discover more about the
city's history and culture. Derek Walcott area is a public area and park in Castries' downtown.
The square honours Sir Derek Walcott, a Saint Lucian poet and playwright who received the Nobel Prize in Literature in 1992.
You and your lover can take a romantic stroll through the park. Away from the busy streets, it provides a friendly, calm environment. There is also a bandstand and a statue of Sir Walcott.
The area also honours the locals who died in battle throughout the conflict, so being courteous around the square is vital.
Day 2 Evening: Finish your day with a romantic sunset boat. Set sail from Castries and enjoy watching the sunset over the horizon while spending time with that special someone in your life.
Toast your future with some onboard drinks and a bite to eat. The catamaran provides luxury and a fantastic evening as you cruise through the Caribbean seas.
Most cruise ships wait for the 'green flash' before returning to port. This occurs when the sun's upper rim appears green as it sets.