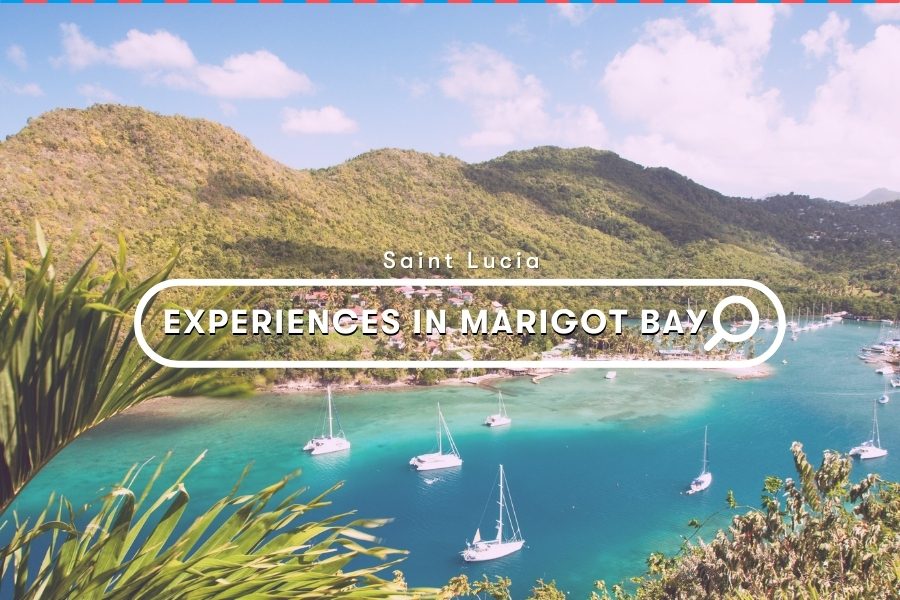 The Best Marigot Bay Experiences
Found 3 miles from Castries is the beautiful Marigot Bay in St Lucia, a popular destination due to how many things there are to do and see. Discover the various experiences available at Marigot Bay for the whole family to enjoy on your dream vacation.
Why Is Marigot Bay Famous?
Marigot Bay is famous for its scenery. In front of you are the lapping crystal blue shores, and behind you are luscious green hills dotted with the typical architecture of the region.
If you think you recognise the area but can't pinpoint why, then Marigot Bay is also famous for being a film location. Featured in Doolittle and Pirates of the Caribbean, film buffs will be able to spot certain scenes as they walk around the gorgeous waterfront.
It's also well known purely for its beauty, with some even considering it the most beautiful bay in the whole of the Caribbean.
Things To Do In Marigot Bay, St Lucia
Of course, before you book anything for your holiday, you need to know what things there are to do there! Luckily, there is plenty on offer in and around Marigot Bay for the whole family.
The Best Marigot Bay Experiences
Roseau Valley Banana Plantation
Roseau Valley is the largest banana plantation on the island and is the perfect opportunity to see the process in full. Plus, you'll get to try some of the freshest bananas you'll ever see.
Situated next to the Roseau Valley, this scenic location was once home to a sugar plantation but has now evolved to produce some of the tasty tropical fruit that we eat every day.
The plantation itself is huge and there are plenty of tours on offer to get firsthand experience as well as picking your own bananas to take home!
Snorkelling
With all those stunning waters around, it would be silly not to get in it! Our next Marigot Bay experience is a snorkelling adventure in St Lucia and it's one of the most popular things to do in the area. You can hire equipment, bring your own or get yourself a guide to explore what lies beneath the Caribbean seas.
Tourists and locals alike will recommend heading to the north of the bay into the coves. The shallow waters here are great for children, meaning the whole family can get involved and create some great memories.
Rainforest Adventures
Less than an hour away from Marigot Bay is Rainforest Adventures St Lucia; fun for all of the family.
This would be a day full of fun and adrenaline, with activities on offer such as hiking, zip-lining and even an aerial tram. Don't worry, if you want something a little calmer then there are bird-watching and other nature tours to take in the St Lucia wildlife.
Get some real knowledge from experienced guides and prepare to have a fun-filled day!
Rum Tasting Experience
You can't come to St Lucia and not try the rum! Luckily for you, one of Marigot Bay's experiences is a tour of the distillery. If you're looking for adult-only things to do in Marigot Bay, then this should be at the top of your list.
Highly informative and with plenty of opportunity to sample some delicious rums, you'll see the process of dark molasses becoming tasty rums, whilst learning plenty along the way. What's even better, is that your tour will include the perfect views of Marigot Bay.
Coastal Cruise
After a day of zip-lining and trying some rum on the coastlines, it's time to spend an evening cruising around the St Lucia coast, taking in the setting sun against the beautiful waters.
Whether you go with the whole family or for a couple's getaway, you'll get a unique view of Marigot Bay in St Lucia.
The cruises on offer vary in length, with some lasting 5 or more hours, taking you to Castries and around The Pitons too.
Snacks and drinks are included, and even the possibility to snorkel too!
Marigot Bay in St Lucia is a wonderful location, no matter what you want from your holiday. Make your trip even easier by booking with Finalrentals