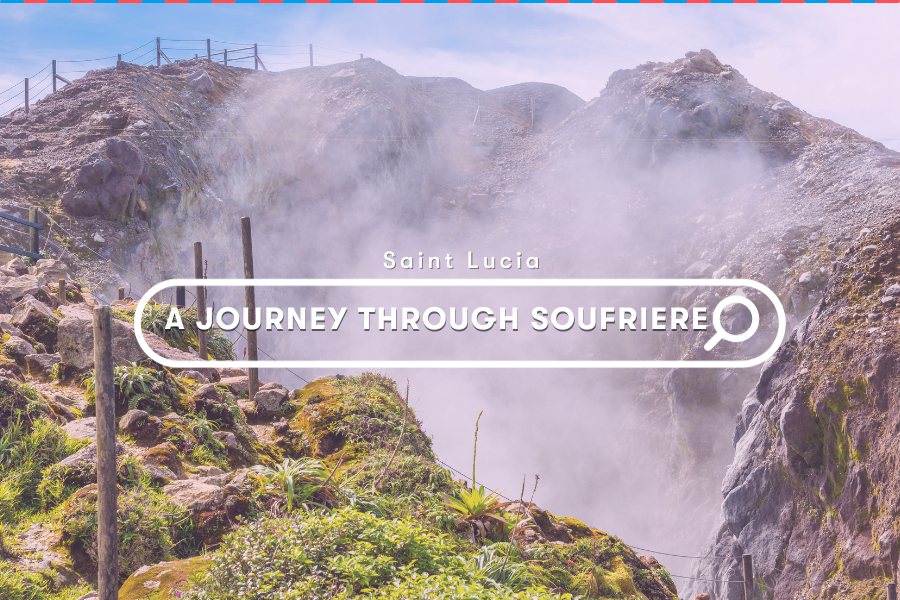 A Journey Through Soufriere Town
Once the capital of St Lucia instead of Castries, Soufriere Town offers a more laid-back holiday. It's a dream destination for those looking for ultimate relaxation. Whilst there are activities to be done, a trip to Soufriere town and hills offers a peaceful way of life. We tell you what Soufriere is known for, as well as all the things to do on your leisurely holiday.
What Is Soufriere In St Lucia Known For?
Soufriere is most famous for being home to The Pitons, a magnificent site which tourists can hike when visiting St Lucia.
It is also famous for its outstanding beauty, vibrant culture and the vast amount it offers travellers visiting throughout the year. If you're a bit of a film buff, then you may also know Soufriere, St Lucia, from the 1980s Cascara starring Michael Caine.
Named after the nearby sulphur springs, translated into the French 'Soufriere', there is plenty to be discovered in this beautiful location.
Soufriere: Things To Do
Whether you want thrills, relaxation or just to take in the natural beauty of this stunning spot, there are plenty of things to do in Soufriere to keep everybody entertained.
Take A Trip To Sulphur Springs
After being named after the phenomenon, visiting the springs is an absolute must when in Soufriere!
What makes it even more unique here, is the volcano is drive-through, but you won't be finding any McDonald's up here! All the more reason to hire a car in St Lucia, the volcano and its springs is a wonder to behold.
Before you even get close to the St Lucia volcano, you'll be able to smell sulphur for miles around. Don't worry, that smell is a positive thing as it means that the volcano won't be erupting anytime soon.
For safety, you can't walk around the springs, but driving through still gives you an amazing view.
In some areas, where the water temperatures are much cooler, you can bathe in the springs which are said to help rejuvenate and purify the skin. Mud baths are also available if you really want to immerse yourself in some natural spa therapy!
There's even a gift shop for you to pick up some souvenirs and trinkets to remember your trip to this unique destination for years to come.
Soufriere Town
Full of culture, colourful architecture and a short distance from the beautiful bay, Soufriere town is the perfect location for wandering around and getting to know the place and the locals.
Well known for its charm, it's actually here that Queen Elizabeth II visited instead of Castries in 1966, so it certainly has royal approval.
Some of the older buildings are a testament to its history, with British and French influence around every corner.
However, more modern landmarks are well worth a gaze too, including the Freedom Monument In Soufriere Town Square.
Soufriere Beaches
If you're vacationing in the Caribbean, then you'll probably want some gorgeous white sands. Luckily, the Soufriere beaches offer that and then some.
Nestled in between the two peaks of The Pitons is Jalousie, or Sugar Beach. With crystal waters, an unimaginable landscape and an 1800m drop, this is the perfect Soufriere Beach for those looking for a scuba or snorkelling adventure in St Lucia.
Anse Chastenet is another incredibly popular Soufriere beach with a stunning landscape. With the lush green rainforest behind you, the Caribbean sea ahead and warm sand beneath your feet, Anse Chastenet promotes relaxation. This beach is especially great for those in the Anse Chastenet Resort, only a few metres from your hotel. Imagine taking your breakfast down to the beach and diving into the warm waters for a leisurely swim.
Plus, in the evening, the Jungle Bar offers delicious burgers and cocktails to make the most of your holiday.
Soufriere has so much on offer and is such a beautiful place to explore. Whether you want to see the springs, enjoy time on the beach or take in all the nature, adding the Soufriere town and beaches to your St Lucia itinerary is a must.